Products
We develop our own iOS and Android products for download from the AppStore and Google Play.
Find out about some of our products below: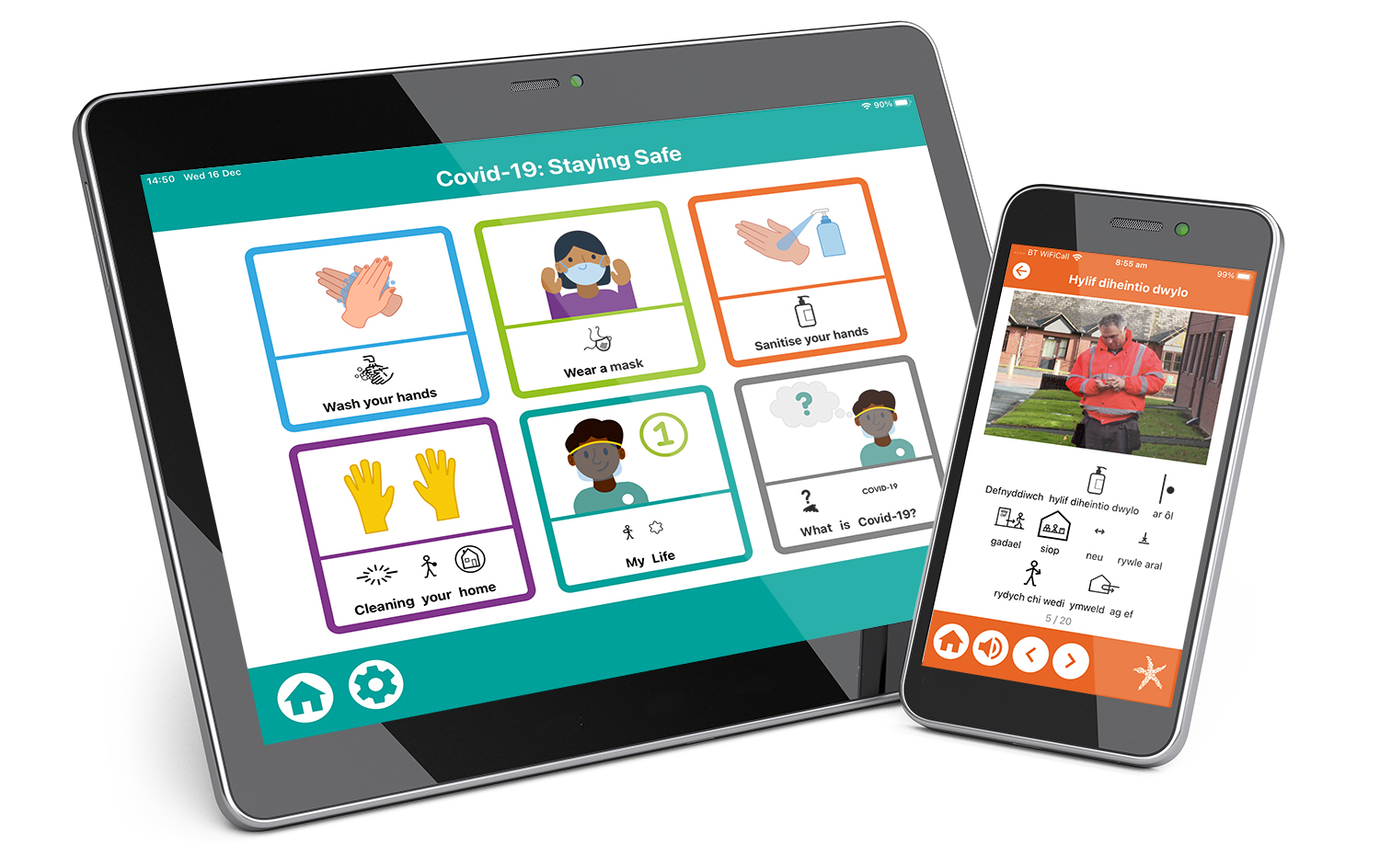 Logging in:
When you open the app for the first time you can choose your language preference and you'll be asked to accept the terms and conditions for use of the app.
You will then be asked to register an 'admin' user account with your email address and a password.
The admin user area is where you will be able to create your own customised guides or change language options by touching the 'settings' cog icon. When you log out, the user will only see the generic content and the content you have created for them. If you're creating the guides as reminders for yourself you'll still be able to access everything when logged in.
Viewing generic content:
When you open the app you'll see a screen of 'task tiles'. You can select an area that you want to learn about by touching these tiles.
You can then select whether to view images, videos, cartoon drawings of the generic content, or custom content you have created that doesn't fit into the generic areas under 'My Content'.
This screen also has links to up-to-date guidance from the UK Government, Welsh Government, Scottish Parliament and Northern Ireland Government.
You can then view the steps for each task section, which includes the media you have selected, cartoon drawings, photos or video, with Makaton symbols and text description for each step, as below:
You can also hear a spoken voice description for each step by touching the speaker icon.
At the end of each task section you will see this screen. You can choose to view the section again, choose a different medium (photos, video etc.) or go back to the main menu.
Creating your own content for general guidance areas:
When you are logged in, you can create your own content by tapping the 'settings' cog icon and then 'Manage Tasks'
You can also select your language preference (currently English and Welsh are available) from this screen.
You can choose one of the general content areas in 'Manage Tasks' where you will see this screen:
You can then select one of the general areas to create your own task steps and images. (See the next section for creating your own reminder areas in 'My Life')
e.g. to create your own 'Wear a Mask' content – touch the 'Wear a Mask' task tile.
You can then create your own steps for 'Wear a Mask' or any of the other sections:
You can't change the name of the task or the cartoon icon here, as this is designed for you to create your own content for each section – e.g. your own masks, hand washing, cleaning routines etc.
You can add steps using your own photos, video, and short sentences in the 'Add steps' section.
You can:
add a step by tapping +
edit a step by tapping the pencil icon
remove a step by touching the bin icon next to that step
remove the whole sequence of steps by tapping the larger bin icon next to the +
You can type in the text for your task and tap the + 'Add Media' to add a photograph or a video to illustrate the step. Just touch the tick icon to save the stem or the arrow to go back.
When you have finished creating all your task steps touch the disk icon next to the title and your custom task will be saved.
Your customised task content will then appear under 'My Content' in the relevant
area when you access 'Select media type'.
Creating content for 'My Life' area:
You can create multiple tasks in the 'My Life' area accessed from the main menu screen:
These could be for different types of mask or face covering, different areas of your home, rules and guidelines relating to school or work environment, or information on local regulations and different levels of lockdown or tiers in different areas.
You can edit and update these as many times as you like.
To create content in the 'My Life' section, ago to the 'Settings' screen and select 'Manage tasks'
In the 'My Life' section you will see a screen like this:
To create a reminder or task touch the + icon.
This works in the same way as creating content described above, but you can name your reminders or tasks whatever you like, and add a photo to identify the task or reminder.
You can then add the steps for the task with photos or videos and text descriptions. (It's best to break tasks down into small, easy to follow, steps and short sentences).
You can add multiple custom reminders or tasks in the 'My Life' section. These can then be accessed from the main menu screen when you tap 'My Life'.
All generic content, design and user interface © Starfish Labs 2020 All Rights Reserved. Makaton symbols used in the app are used as part of the content developed in collaboration with Derwen College. Makaton symbols are copyright © The Makaton Charity and may not be reproduced without the permission of The Makaton Charity – www.makaton.org
Have fun creating your content!